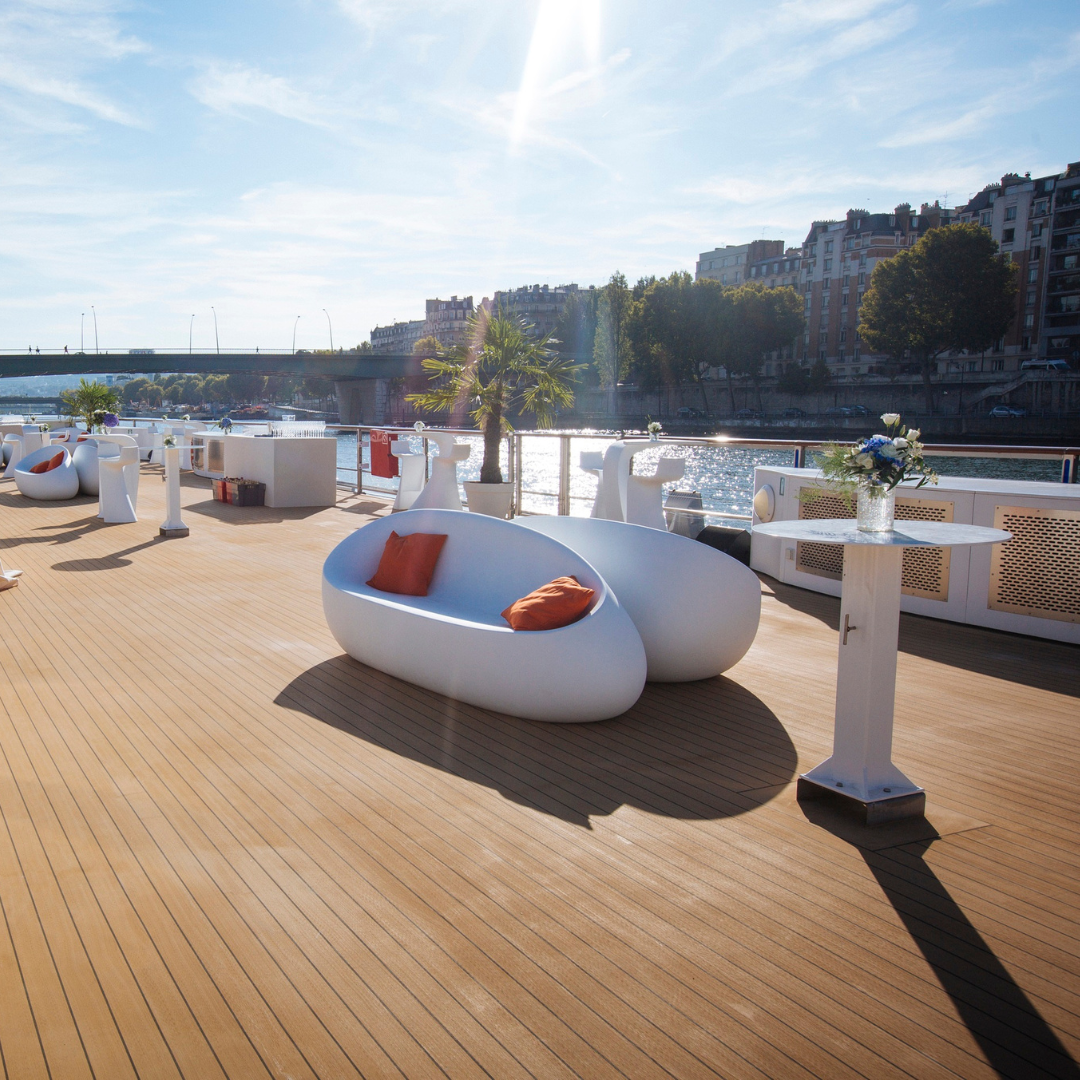 Individual: privatization of a barge in Paris


Why not privatize a barge in Paris for your next private event?
The privatization of a place for an event has become a common practice in our society. And what better than a barge to celebrate a highlight of your life? Le Diamant Bleu, a barge on the Seine in Paris, is the perfect choice to make your dreams come true (wedding, bar mitzvah, etc.). Modern, spacious and elegant, the Diamant Bleu offers unprecedented volumes on the Seine allowing it to accommodate up to 400 guests.
By privatizing Le Diamant Bleu, you benefit from an exclusive space for you and your guests. This ensures complete privacy, allowing you to fully enjoy your event without outside distractions.
Le Diamant Bleu offers an exceptional setting for your event. With its panoramic views of the Seine and the emblematic monuments of Paris, you benefit from an enchanting decor that will impress your guests and create a unique atmosphere.

Privatize a barge in Paris for a wedding
Privatize the Blue Diamond for an extraordinary wedding and an unforgettable experience. We will make every effort to ensure that the most beautiful day of your life is as unforgettable as it is magical.
With its romantic and spectacular landscapes, Paris is the perfect place to celebrate your love. The barge gives you stunning views of the city's historic landmarks as you cruise along the Seine. Our wedding barges offer an elegant atmosphere and are equipped to meet all your needs, from catering to catering. Book now to create unforgettable memories of your wedding reception on a barge in Paris.
Celebrating your wedding on a houseboat offers a unique and idyllic setting. You will be able to enjoy a panoramic view of the water and the surrounding landscapes, which will create a romantic and unforgettable atmosphere for your special day. Our houseboats offer a combination of elegant interior rooms and spacious exterior decks, allowing your guests to fully enjoy the surroundings.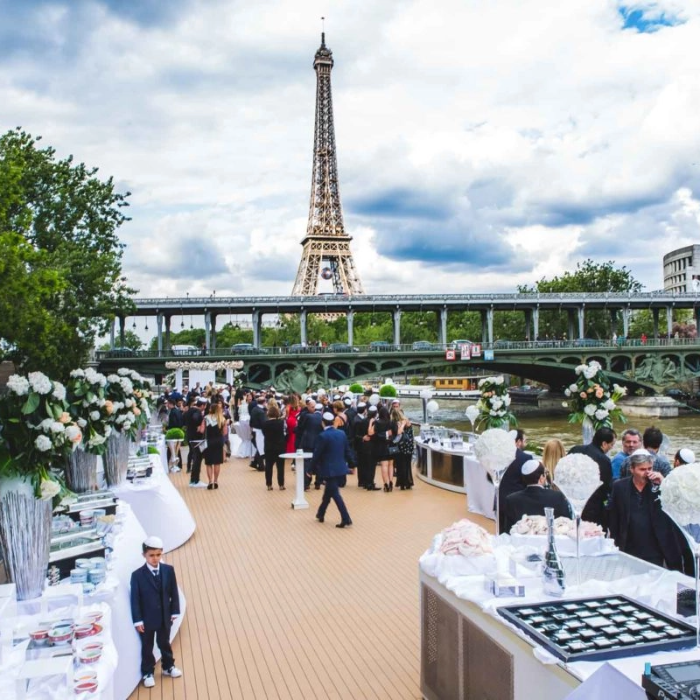 Privatize a Barge in Paris for a Bar/Bat Mitzvah
Privatize a barge in Paris like the Diamant Bleu allows you to take advantage of a turnkey solution. Celebrate your bar mitzvah in a unique and original setting. Let us help you create a festive and memorable atmosphere for your event. Enjoy panoramic views of historic bridges, bustling quays and famous city landmarks. Our barges are equipped to meet all your needs, from catering to entertainment and activities. Choose your own caterer, decorator, your musicians… Dare to break the codes by organizing your Bar/Bat Mitzvah differently.
You can enjoy the beauty of the river or coastal landscapes while creating a festive and joyful atmosphere. Your guests will feel transported to a different setting and this will make the bar mitzvah even more special and unforgettable.
The privatization of our boat Seine in Paris offers you a distinct and different atmosphere from traditional places of celebration. The feeling of floating on water creates a friendly and memorable atmosphere for the bat mitzvah.
Organizing this event on a barge will allow you to combine the ceremony and the reception in the same place.

Privatize a barge in Paris for a tailor-made event
Our teams are at your disposal to offer you a personalized and tailor-made offer for your event. We are at your disposal to meet all your desires and advise you so that your moment is unforgettable. The beauty of the landscape and the uniqueness of the houseboat will add a touch of magic that will make the difference.
The privatization of our barge in Paris offers you the possibility of personalizing every detail of your event. Whether it is for a wedding, a birthday, a company party or any other special occasion, you can adapt the decoration, the menu, the atmosphere and the activities according to your preferences and your needs.
Rent our barge in Paris for your event and let yourself be carried away by the beauty and romance of the Seine, in a luxurious and friendly setting. We are delighted to welcome you and allow you to live an experience you will never forget.
We can accommodate all types of events, do not hesitate to ask us, we will answer your request as precisely as possible.
By privatizing a houseboat in Paris, you will have a more intimate atmosphere, where you can relax and interact with your loved ones without the interruption of other events or customers.
Le Diamant Bleu's dedicated team supports you in the planning and execution of your event. Professional experts are at your disposal to advise you, guide you and offer you personalized service throughout your experience, thus ensuring the success of your event.