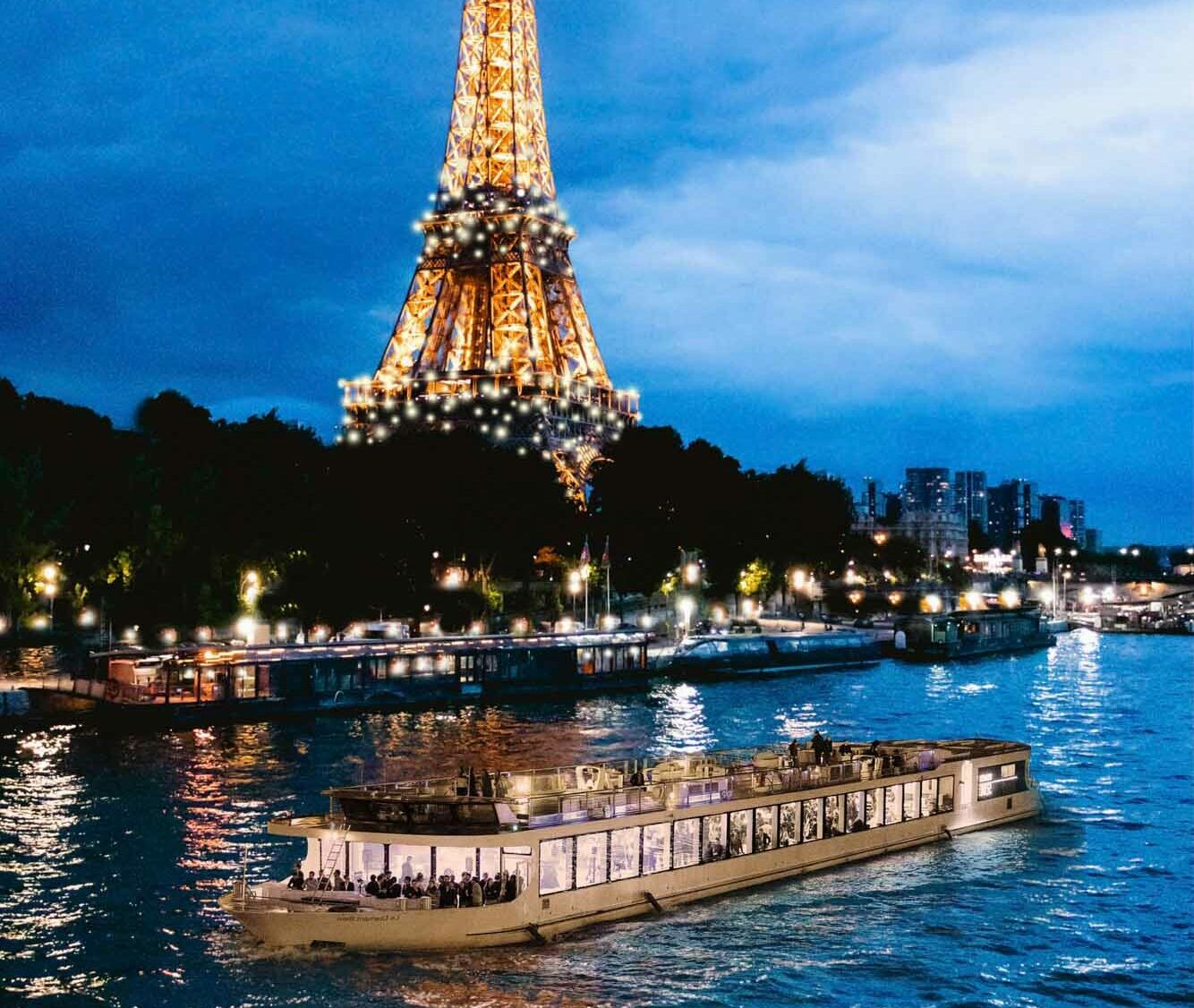 Our La Gourmande Seine Dinner Cruise on the Diamant Bleu
From Tuesday to Saturday, on the Diamant Bleu.

Embark on a dinner cruise in Paris aboard Le Diamant bleu and experience the magic of "Paris by night" in the most beautiful of settings! Come and discover the capital like you've never seen it before aboard one of our dinner cruises on the Seine. Enjoy a magnificent view of the Seine thanks to our bay windows present throughout the boat and our lounge terrace.
Let yourself be surprised by the delicacy of our cuisine and the charm of Paris. On board our dinner cruises you will have a breathtaking view of the historic monuments of Paris, as well as quality cuisine and an elegant atmosphere to enjoy an unforgettable moment.

THE GOURMET CRUISE –
from
89€
2.5h cruise

– Boarding: from 19:15

– Cruise departure: 20:30

– Return to shore and end of evening: 23:00

A starter (of your choice), a main course (of your choice) and a dessert: see the menu

– 89€ – GOURMET PACKAGE: 1/2 bottle of water per person

– 129€ – SPARKLING GOURMET PACKAGE: 1/2 bottle of champagne per person and 1/2 bottle of water per person

A la carte drinks : see drinks

– VIP location (next to the bay window with comfort seats) +15€/pers.

– PRESTIGE location (at the bow of the boat, on a round table on a platform – max 30 people) +20€/pers.

Atmospheric restaurant (singer and DJ)
A magical atmosphere during your dinner cruise
Our dinner cruises in are both romantic, festive but also gastronomic, that's what makes it so special.
To enhance your dinner cruise in Paris, a pleasant musical atmosphere will accompany you throughout the cruise. Enjoy a live performance from a talented musician who will perform classic and contemporary pieces, creating an elegant and relaxing atmosphere.
The magic of our dinner cruises on the Seine is even more palpable after dark. The monuments and the banks of the Seine light up, creating a magical atmosphere. Prepare your camera, because you will have the opportunity to capture spectacular images of Paris from a new angle. You can take a stroll on the outside deck to breathe in the fresh air or sit comfortably inside to enjoy the view through the large bay windows.
A dinner cruise with a sumptuous finale
During your dinner cruise you will have the opportunity to pass in front of the Eiffel Tower during the twinkling.
The magical moment of the cruise when the boat passes in front of the Eiffel Tower is indescribable. It is a moment of splendour, wonder and romance. As the boat glides silently through the water, the majestic Eiffel Tower lights up with a thousand lights. Now is the perfect time to grab your camera and capture that precious memory.
At the end of the cruise, you will disembark with unforgettable memories of this magical evening on the Seine. Do not miss the opportunity to live this unique experience. Our 2-hour dinner cruises on the Seine offer you the perfect mix of relaxation, culinary delights and exceptional views. Join us and create unforgettable memories aboard one of our boats.
Our dinner cruises
La Gourmande dinner cruise
Currently we offer 2 types of dinner cruises on the Seine, the first being the gourmet cruise aboard the magnificent Diamant Bleu.
This dinner cruise offers you a luxurious and soothing setting on one of the largest barges on the Seine.
Our houseboat has been completely renovated and redesigned to provide an elegant and contemporary setting for our customers. The sophisticated and refined interior is embellished with modern touches, creating a chic and friendly atmosphere that will seduce all guests
Our talented chef and his team offer you refined and creative cuisine. The dishes are prepared with top quality ingredients, highlighting the authentic flavors of French cuisine. Our gourmet menu will delight the most demanding taste buds.
Our attentive and professional staff is on hand to provide you with quality service throughout your experience aboard Le Diamant Bleu. We make it a point of honor to offer you a warm welcome and to meet all your needs, in order to guarantee you a carefree evening full of precious moments.
The dinner cruise La Trattoria sur Seine
Our 2nd dinner cruise is the "trattoria sur Seine", launched in May. It is very different from the gourmet cruise but is no less interesting. Trattoria sur Seine is an Italian-themed dinner cruise. The cruise takes place on the Theo boat, a more intimate boat that can accommodate up to 90 people per dinner.
On board will be served typical Italian dishes accompanied by Italian music in order to stay in the mood and create this warm and friendly atmosphere. With its magnificent terrace, Trattoria is the ideal plan for the coming sunny days.
Do not hesitate any longer and come and discover our Italian menu on the Seine. These two dinner cruises do not have the same boarding point but follow the same route, passing in front of the same Parisian monuments (Eiffel Tower, Louvre Museum, Orsey Museum, Statue of Liberty, etc.) and the two offer 2 hours of cruising.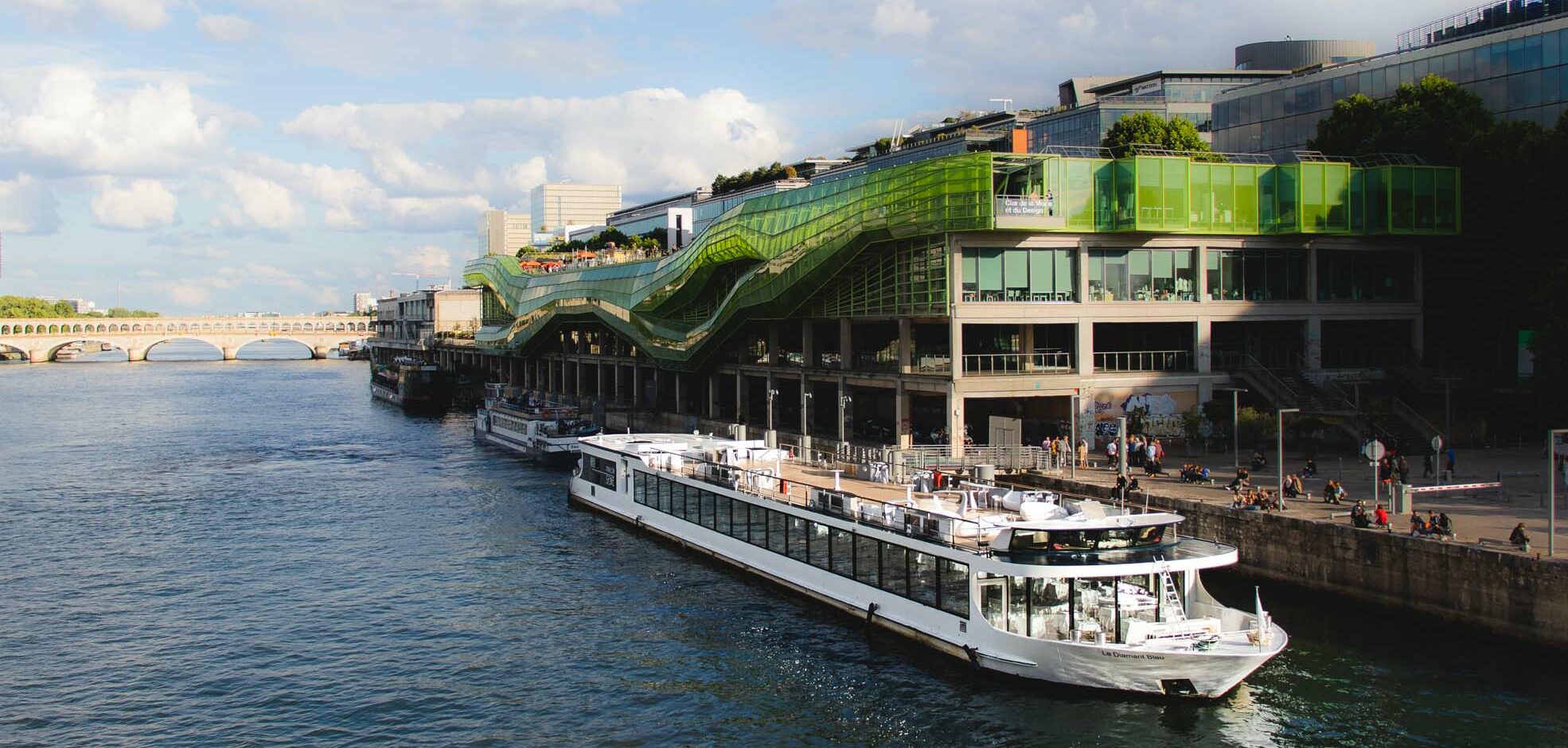 Boarding
OPPOSITE 36 QUAI D'AUSTERLITZ, 75013 PARIS, UNDER THE CITÉ DE LA MODE.
 BE CAREFUL : Boarding takes place from 7:30 p.m. We leave for the cruise at 8:30 p.m. sharp (no delay possible).

Access
PUBLIC TRANSPORT
METRO: Quai de la gare (Line 6) or Gare d'Austerlitz (Line 10 or line 5)
RER: Austerlitz station > Gare de Lyon exit (RER C)
PARKING (PAID): 29 Quai d'Austerlitz, 75013 Paris (the quay is not accessible by car)
Give the gift of an unforgettable moment with one of our special date
When you select your gift voucher your order valid for 12 months from the date of purchase except for special dates for which a specific rate applies.